We love volunteers from First Insurance & Credit Union who help us with important office jobs! Thank you!

So generous and kind of Josephine to share her birthday money so we can keep supporting YANA kids. Every bit helps!

Thank you to Mark Isfeld Secondary School who donated to YANA in honour of Jack Boan's huge effort and achievement in reciting over 1,000 digits of Pi.
Posted on
Valley Vonka is not only bringing some big excitement to town this spring but it is raising funds for You Are Not Alone (YANA).
"A significant portion of our donations come from community fundraisers," say YANA Executive Director Marcie Dumais. "These are businesses, groups, or individuals who independently organize some kind of fundraiser with YANA as the beneficiary."
Jordan Marshall of Hot Chocolates was happy to get involved as a title sponsor. "When we started Hot Chocolates thirty-two years ago, we decided we wanted to support things that lifted children up. YANA is all about kids, it's local, and Valley Vonka involves chocolate. For us it's a perfect fit."
"Community fundraising is all about finding that fit," says Dumais. "For some it's a charity BBQ, for others a raffle, we recently had a young man recite over a thousand digits of Pi from memory for pledges to YANA."
The common denominator in community fundraising is the desire to support local families who need to travel for the medical care of a child under 19 or a pregnant mother.
"We are truly grateful for all the unique ways our community finds to support us," continues Dumais. "These fundraisers play a huge role in our ability to deliver services to families."
One of these families is the Wallace family. Claire Wallace was born with an arm and hand that didn't move and despite the hopes of doctors and her parents the condition did not improve with time.
"We travelled to BC Children's Hospital so many times in the first few years," says Claire's mom. "Luckily through friends we found out about YANA."
By the time Claire was six it was determined that a major surgery was needed and YANA was able to assist the family during their stay in Vancouver and has been able to support their subsequent follow-up visits.
Coincidentally, Claire's grandmother has worked alongside Marshall for the past twelve years at Hot Chocolates.
"We are such an interconnected community," says Dumais. "Those connections can inspire some very special generosity and allow us to be there for children like Claire as long as we are needed."
To find more information on hosting your own YANA fundraiser visit https://www.yanacomoxvalley.com/fundraise/

Big thanks to Thrifty Foods for helping YANA acknowledge the important work of YANA volunteers and a shout-out to Tracy Bono for winning the volunteer draw at the 2018 Big Love Benefit!  Volunteers are integral to the success of our gala!

We are so impressed!  Jack Boan recited 1,130 digits of pi in a packed Isfeld lobby on March 14 and inspired many pledges to YANA. Thank-you Jack!

Sincere thanks to Courtenay Family Chiropractic for their generous donation to YANA provided through their spinal health education sessions. Your efforts are very much appreciated!

Thank you to big-hearted brew master, Brad Harris, to all of the volunteers who labelled Royston Nano Brew's Love Potion IPA and to Gladstone's for hosting the fun.

Our gratitude to the staff at Shoreline Orthodontics who recently donated their jeans day funds to YANA.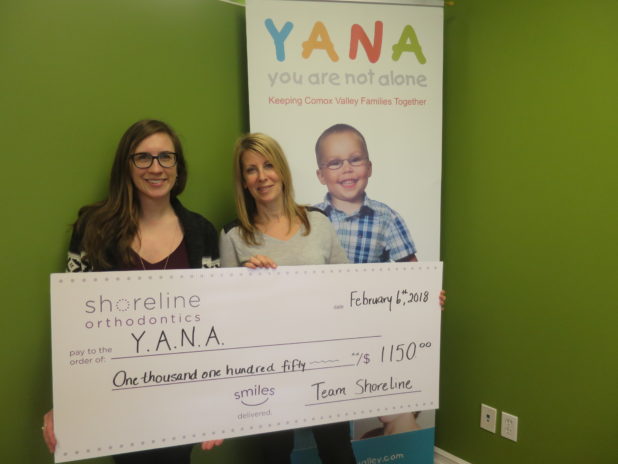 Happy belated birthday to Pierce Gerritsen. We appreciate that you share your birthday money with YANA! You are a great kid!