We would never throw mud at The Comox Valley Potters Club and the Potters Place! These community minded artists spent lots of their time and talents on this long running $20 Chili Bowl fundraiser for YANA. Did you know 100% of the proceeds go to YANA Comox Valley from their Market Day event? Their neighbours Blue Spruce Ice Cream joined in the fun too by donating $3 ice cream tickets! Big messy sticky high fives to everyone!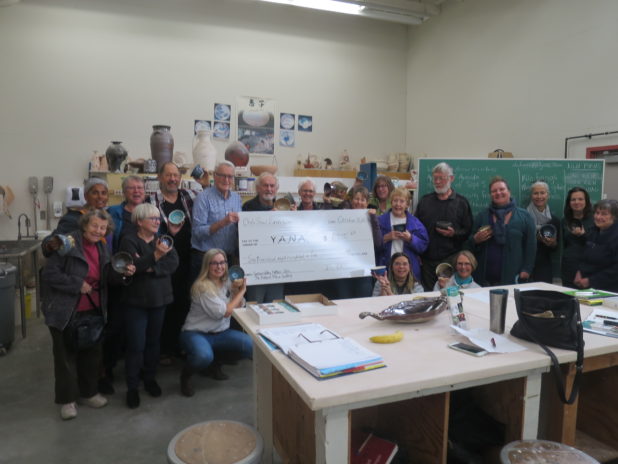 Do you know who really rings our bells here at YANA? TELUS! They partnered with us and did a $25 donation for every Optik TV activation during their previous marketing campaign in the Comox Valley. They are a company that really cares about giving back to their community members. A large cheque was made for YANA families! Ring a ding, ding!
Posted on
We are pleased to be launching a special program for YANA families called YANA Connects. YANA Connects is an opportunity for YANA families to connect online through a private Facebook group. The program also offers families opportunities to gather for shared learning around various topics of interest. It is for parents, or primary caregivers, of a YANA child, past or present.
If you are a primary caregiver of a YANA child, please join us for the first gathering featuring guest speaker Dr. Carolyn Nesbitt, Registered Psychologist. She will address topics relating to coping, stress and anxiety and how it affects relationships with others and with ourselves. Coffee, tea and snacks will be served. The evening is complimentary for YANA families. YANA will provide funding support for babysitting if needed in order to attend.
Filberg Centre Conference Hall (upstairs)
411 Anderton Ave, Courtenay
Wednesday November 7, 2018
7:00pm – 9:00pm
Please RSVP to yanaconnects@yanacomoxvalley.com. If babysitting support is required, please let us know.
Click here for more information.
Posted on
Originally published by Comox Valley Record – Oct 23, 2018
This past spring, Comox Valley's Gladstone Brewing Co. partnered once again with Brad Harris, a full-time family physician by day and self-taught brewer by night (and owner of the Royston Nano Brewery) for the brew-based fundraiser that resulted in production of Love Potion NEVI (North East Vancouver Island) IPA. Now that final sales have been tallied, more than $5,500 of Gladstone's proceeds from the beer were split between You Are Not Alone (YANA) Comox Valley and BC Children's Hospital Oncology – causes close to the hearts of the brewers. Pictured, YANA president Kelly Rusk, Gladstone Brewing Co. marketing manager Marissa Johnson, Royston Nano Brewing brewmaster Brad Harris, YANA community relations co-ordinator Deanne McRae, Gladstone Brewing Co. owner Daniel Sharratt, YANA executive director Kelly Barnie.
Sunnydale Golf and Country Club's annual Sunnydale Men's Tillicum Open doubled as a fundraiser for YANA this year.. Congratulations to Jordan Rallison for defending his Champions title and to Gavin Haigh for shooting a career round and capturing the Low Net title. As a result of the efforts by Rob Speer Golf and the Sunnydale Men's Club, the Tillicum Committee is very happy to be able to donate $1000.00 to YANA (You Are Not Alone) to aid in all the great work the non-profit does in the Comox Valley. We would also like to thank all the sponsors and volunteers who helped make the tournament a success.
Posted on
Originally published by Comox Valley Record – Sept 29, 2018
The next 1st Tuesday Fundraisers sponsored by the Mex Pub on Oct. 2 will feature Sweet SantaFe, Michel Rivero and Christine Baxter, presenting The Songs of Leonard Cohen in support of You Are Not Alone (YANA).
Sweet SantaFe's incendiary spark began during a Spanish/English choral music cultural exchange in Havana Cuba where Cuban born Michel Rivero Mordoch and southern Alberta songwriter Penelope Christine Baxter first met.
Sweet SantaFe has infectious Cuban Trova style rhythms that get you up and dancing, and cinematographic lyrical scenes that paint the most vivid landscapes of life. Sweet SantaFe's distinct style has been crafted from influences as diverse as Alison Krauss, and Sarah McLachlan, to Pablo Milanes, and Tom Jobim. This unlikely pairing, conceived in the fishing district of Santa Fe, Havana, Cuba evolved as the two seasoned songwriters listened and learned to speak each other's language through song.
In 2016 Sweet SantaFe moved from Havana, Cuba to Comox, where they began sharing their music with Canadian audiences.
The evening begins with a warmup set by hosts Coast to Coast at 7:30 p.m.
YANA is a local non-profit society that provides accommodation and funding to Comox Valley families who need to travel outside the community for medical treatment for a child under 19 or for a pregnant mother.
YANA was founded in 1986 by Sandra Williams after her family experienced the financial and emotional devastation of having a very sick child who required treatment at Children's Hospital for many months in Vancouver.
The organization continues to ensure that families in the Comox Valley are not alone when dealing with medical issues for their children and believes that when a child is ill the whole family requires care. It also provides financial support so families can stay focused on the health and wellness of their child.
YANA maintains four fully furnished apartments within walking distance of Children's Hospital and also assists with finding and funding accommodation in alternate treatment destinations. In addition to providing accommodation, the organization provides a daily, weekly or monthly allotment of funds to help with costs of travel, food, parking and unexpected expenses.
They also provide the Comox Valley Hospital with funds to make available to local families who have a child or an expecting mother who requires emergency transfer to another hospital. To access service YANA ensures a simple, confidential and supportive process that starts with a phone call, an email or a visit to the office.
The Comox Valley Foodbank Society, (CVFS) a regular at the event, will be there to accept food donations for families in the valley who are in need.

Big Kudos to Island BMW for hosting their first Annual Island BMW Motorrad Day up on Mount Washington. We were so thrilled that YANA Comox Valley was invited to be a part of this first time event! A cool $550 was raised. High fives all around (but not while driving your motorcycles -safety first people.)

YANA sure appreciates 10 year old Feodor.  While visiting his grandma in the Comox Valley he learned about YANA, and asked his grandma to take him into the bank. He decided to take out his own money for a YANA donation.  We think kids giving to kids is so fantastic!

Lucia turned eleven and chose to turn her Birthday celebration into a giving opportunity for YANA!  We are so lucky for Lucia's kindness!  Big thanks to you, your friends and family.

Gratitude sent out to everyone who had fun at Kendrick's Birthday Bash.  We so appreciate that it turned into such a wonderful fundraiser for YANA.  Well done Kendrick and guests!
Posted on
A huge thank-you to the 600 cyclists, 175 volunteers, and to all donors and sponsors who contributed to the 2018 Simon's Cycles YANA Ride. Together we raised $70,000 which will go to Comox Valley families with children who need medical care away from home. Click here for a full look at all contributors. Photo credits: Gordon Ross Photography